(This quick reference guide has been provided to give a short introduction to the basic processes of air pollution and some of the common terms used in APIS. However, APIS has provided individual pollutant (and pollutant issue) overviews where more detailed information can be obtained. In addition, each overview lists references of up to date research. Overviews are listed on the home page.)
The processes of emissions, chemical transformation, and deposition are illustrated below (figure 1). Primary pollutants SO2, NO and NO2 are oxidised in the atmosphere to form SO42- and NO3- respectively, while NH3 reacts with these oxidised components to form NH4+ (ammonium). These pollutants know as aerosols can travel long distances, and together with primary pollutants can be deposited in the form of wet or dry deposition.
Wet Deposition: Process whereby pollutants are removed from the atmosphere by precipitation. Wet deposition removes most of the aerosols containing SO42-, NO3- and NH4+, but some can be captured directly (dry deposition) at the terrestrial surface by aerodynamically rough surfaces (e.g. forests). Since rainfall efficiently removes these aerosols, parts of the country with the largest wet deposition tend to be areas of high rainfall.
Dry Deposition: Deposition of gases and aerosols directly to the Earth's surface. Includes most of the primary pollutants (SO2, NO2, NH3 and O3), and to a lesser extent aerosols.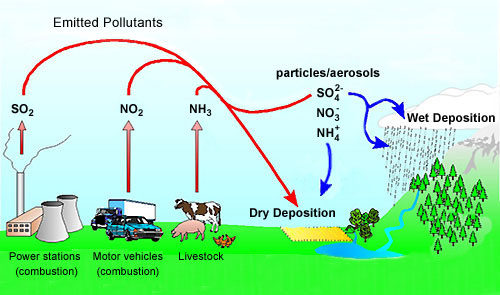 Figure 1: Pollutant emission and deposition processes
Environmental Assessment
Concentrations and deposition of air pollutants are assessed against a range on criteria to protect both human health and the environment. Environmental criteria include critical loads for nitrogen deposition (kg Nitrogen ha-1 year-1) and acid deposition and critical levels for ammonia (µg m-3), sulphur dioxide (µg m-3), nitrogen dioxide (µg m-3), ozone (ppb hours). There are some critical loads for heavy metals but these are not currently used to assess impacts. There are no critical levels or loads for other pollutants but in some cases there are other assessment criteria such as environmental quality standards (EQS) and environmental assessment levels (EAL).
Pollutant sources
Many processes produce a variety of aerial pollutants. These processes are often tightly controlled and regulated resulting in emissions that are small and not significant. The table below illustrates the main air pollutant releases associated with a range of industrial and non-industrial sources. Please note, the purpose of the table is to show the most significant pollutant releases from each sector, in a national context. There are likely to be releases of other pollutants from installations in each sector, in addition to those marked "x", which may lead to a risk of local impacts. The main air pollutants in terms of impacts on vegetation and ecosystems are nitrogen oxides (NOx), sulphur dioxide (SO2) and ammonia (NH3).
Source

 Pollutant

Power generation

Refineries and fuel production

Chemical industry

Metals industry

Cement, lime and minerals

Energy from Waste *

Agriculture / intensive farming

Road transport

Domestic combustion

Nitrogen oxides (NOx)

X

X

 

X

X

X

 

X

X

Sulphur dioxide (SO2)

X

X

 

X

 

 

 

 

X

Ammonia (NH3)

 

 

X

 

 

 

X

X

 

Particulates (PM)

X

X

 

X

X

X

X

X

 

Heavy metals

X

X

X

X

X

X

 

X

X

Halogens (HCl, HF)

X

 

 

X

 

 

 

 

X

Volatile Organic Compounds (VOC)

 

X

X

 

 

X

 

X

 

Persistent Organic Pollutants (POP)

X

 

X

X

 

X

 

 

 

Polycyclic Aromatic Hydrocarbons (PAH)

 

 

 

X

 

 

 

X

X
* Dependent on waste type