Submitted by
Bill Bealey
on Fri, 27/07/2012 - 06:29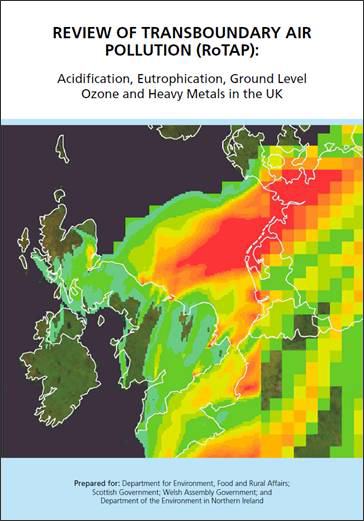 A major new review has found that the chemical climate of the UK has changed dramatically over the last 30 years, and continues to change as a consequence of UK and European policies to solve air pollution problems.
Sulphur emissions and concentrations have greatly declined, rain is no longer acid, and soils and freshwaters are slowly recovering.
The findings are contained within the Review of Transboundary Air Pollution (RoTAP), published last month, which examined changing patterns in acidification, eutrophication, ground level ozone and heavy metals in the UK.
Compilation of the RoTAP review, led by the NERC Centre for Ecology & Hydrology (CEH), involved 60 scientists and reviewers over three years. The project was funded by the Department for Environment, Food and Rural Affairs (Defra), the Natural Environment Research Council (NERC) and the UK's Devolved Administrations.  The latest report is the first detailed analysis since 2001, and shows the effects of policies introduced throughout Europe to mitigate long range transport of pollutants in Europe.
Not all messages from the review process were positive. The assessment team found that although peak ground level ozone concentrations have declined by about 30% as a result of controls on precursor (chemicals that lead to ozone production in the atmosphere) emissions in the UK and continental Europe, background ozone concentrations have grown by about 15% due to increases in precursor emissions elsewhere in the northern hemisphere. These changes mean that ground level ozone remains a threat to crops and natural vegetation.
The review also found that deposition of nitrogen in the UK changed little over the last 20 years, despite large reductions in emissions of nitric oxide and nitrogen dioxide (NOx). The main benefit of reduced NOx emissions has instead been reduced export from the UK. Widespread effects of nitrogen deposition include a loss of UK biodiversity. There is strong evidence that nitrogen deposition has reduced species richness (the number of different species) in a range of habitats of high conservation value over large areas of the UK.
Key messages from the review include:
Emission controls have reduced sulphur dioxide emissions by over 90% from their peak value in the 1950s
Emissions of nitrogen oxides have decreased by 58% since 1970, with a corresponding 50% reduction in air concentrations of nitrogen oxides
Peak ground level ozone concentrations declined by almost 30% since the 1980s. However, emissions throughout the northern hemisphere have led to background ozone levels increasing by about 15% between 1987 and 2010 
The amount of metals deposited in the UK from the atmosphere greatly exceeds the amount of metals reported to be emitted from anthropogenic sources by up to a factor of 10, thus we are unsure where all this metal originates
Over the last twenty years, large decreases in the rainwater concentrations of acidity (85%) and sulphate (75%) have occurred. Dry and wet deposition of sulphur in the UK have decreased by 93% and 57% respectively, over the last twenty years
Large reductions in soil and freshwater acidity have been recorded and biological recovery of freshwater ecosystems is slowly progressing
Nitrogen deposition has decreased the plant species richness in a range of habitats of high conservation value widely in the UK and shows no signs of improvement
Ozone reduced UK wheat production by 1.2 million tonnes in 2000, representing 7% of production
Professor David Fowler, from CEH, chaired the RoTAP Review. He said, "We found that the policies to control acidification in the UK have been a considerable success, mainly due to the very large reduction in sulphur emissions from combustion gases. Ecosystems are recovering as a consequence of these controls. However, policies to control eutrophication by nitrogen compounds have been less effective, mainly because emissions of a major contributor to nitrogen deposition, ammonia, have not been significantly reduced, and remains a priority for control measures."
Professor Martin Williams, from King's College London, who chairs the Executive body of the UNECE Convention on Long Range Transport of Air Pollution, said, "Policies to control ground level ozone have been useful in reducing peak ozone concentrations, with significant benefits for air quality. But a steady growth in background ozone, as a consequence of ozone precursor emissions throughout the northern hemisphere, has eroded these benefits and as a result ground level ozone remains a threat. Ozone will only be mitigated effectively through hemispheric scale controls, which are now an urgent priority."
The UK meets its international obligations on emissions of sulphur, nitrogen compounds and volatile organic compounds (VOC) within the UNECE Gothenburg Protocol and the EU National Emissions Control Directives.
The RoTAP review was prepared for policy-makers at Defra, the Scottish Government, the Welsh Assembly Government, and Department of the Environment in Northern Ireland.
Full reference: RoTAP (2012) Review of Transboundary Air Pollution: Acidification, Eutrophication, Ground Level Ozone and Heavy Metals in the UK. Contract Report to the Department for Environment, Food and Rural Affairs. Centre for Ecology & Hydrology. 292pp